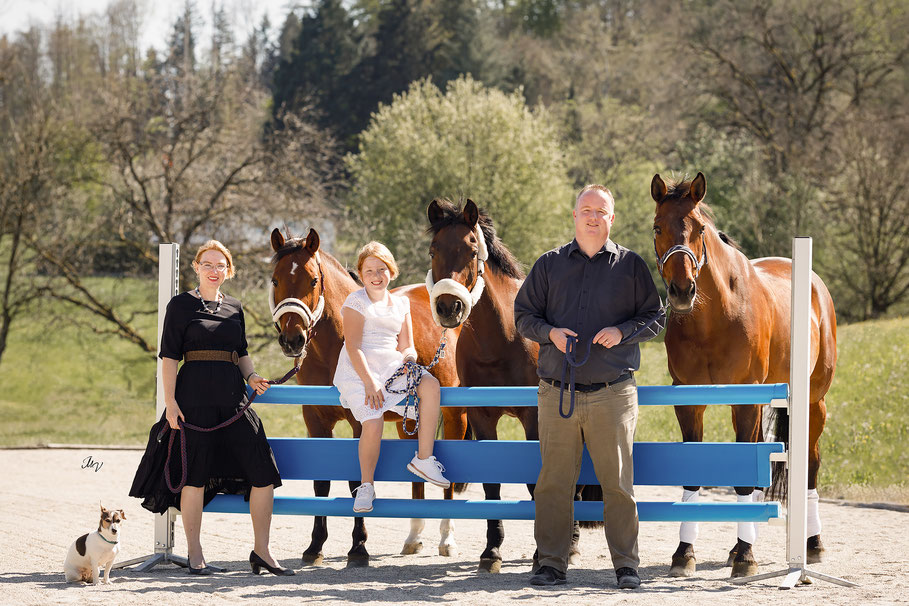 Pferdekram is family-run Swiss online equestrian store that specializes in providing all riders with the best quality and selection of equestrian products. Behind Pferdekram is the Kramer family from Oftringen. The horses Cognac, Leonie & Girly like to test out new items (preferably various Guddeli varieties). Daughter Alina helps with the selection of the kids collections, while Daniela is in charge of the store and the suppliers. Dad Pascal takes care of accounting and logistics and dog Luna is the talented feelgood manager.
---
Our mission
Our goal is to provide you with durable, reliable products that are practical, affordable and make you look & feel great. Whether you're around horses all day or just starting out, we have the perfect products for your needs. We have something for everyone - from very young horse girls to competitive riders.
---
Our values
#Horse girl

Pferdekram was created by horse people for horse people in Switzerland. With our lovingly maintained online store, we want to contribute to the fact that riders can enjoy the time with their fur noses even more.

#Horse love

We are very proud to offer you a constantly growing assortment of equestrian products from great brands that we ourselves appreciate and love. The selection in our store is no coincidence. These are all products that we and our customers are convinced of.

#riderhappiness

We are an online store with heart, so we offer you detailed help, advice and support. We are there for you, whether by mail, by phone but also at our store in Oftringen. We want to see you happy :)

 

#Swissequestrian

We attach importance to high-quality products, of which we ourselves are convinced. Little by little our store will grow, gladly also with suppliers from Switzerland. You produce great equestrian accessories yourself? Get in contact with us!

 
---
Our assortment
Equestrian clothing

In our equestrian store big and small horse girls and boys can find fashionable and functional equestrian clothing and show outfits. We offer collections of various equestrian brands and regularly introduce new items so that the selection is constantly growing. Whether you are looking for breeches, tournament breeches, riding jackets or riding boots, you will find everything a rider needs in our equestrian clothing department.

 

Horse accessories

From recreational riding, to dressage, to show jumping. We carry a fine selection of bridles, gaiters, saddle pads and horse blankets for each individual horse. All of the products we offer are high quality, durable and reliable. In addition, our assortment of specially selected lotions and stable accessories, supplements and grooming products will keep your horse in the best shape possible.

 

Gifts & Delights

You are still looking for original gifts for a horseman or a horsewoman? No matter for what occasion - under gift ideas there is something for every budget to make your riding friends happy.

 

 

Equestrian sports for children




Everyone catches small after all. It is all the more important that the equipment fits, is comfortable and is also fun. Daughter Alina takes care of the selection of kids items, so insider goods first hand ;)

 

 

Rider safety

The safety of the rider is very important for us and a big issue. That is why we offer a well-stocked assortment of riding helmets, safety gear and accident trackers. We know that safety products must be both comfortable and protective. That's why we carry only the best safety brands that have the rider's well-being in mind.

 

 

Your wishes


Do you have a special request or can't find a particular product? We like to hear from you! Feel free to contact us, we will be happy to help and try to fulfill your wishes.